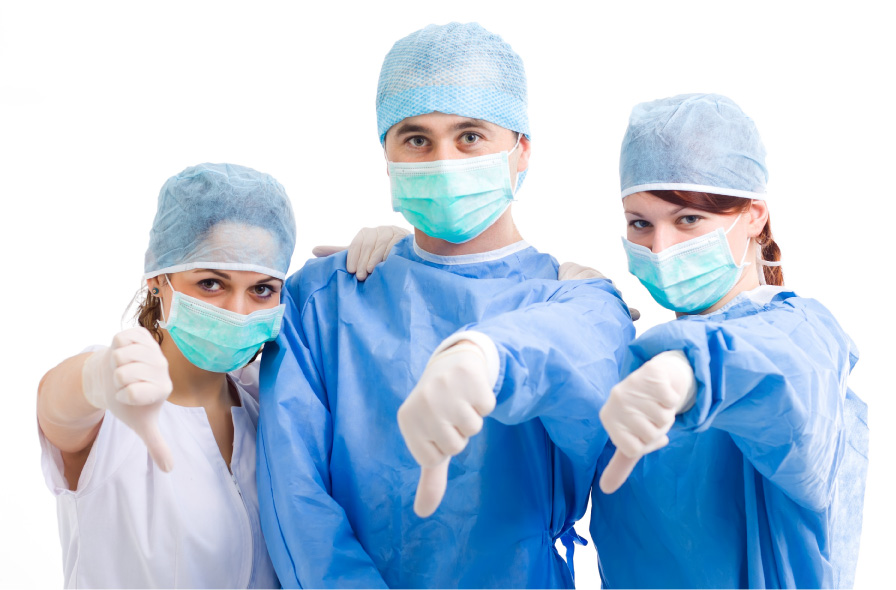 A thriving ASC runs like a well-oiled machine. However, even the gears of a well-oiled machine can slip creating minor issues that disrupt performance or major issues that can bring performance to a halt.
Some of the gears in your ASC are your employees. When they follow outlined procedures and fulfill their job responsibilities, operations typically run smoothly. However, when an employee becomes disruptive, like a malfunctioning gear, significant problems can occur. Disruptions can –
Undermine the culture of safety,

Distract staff from attending to their responsibilities which can affect safety, financial performance, and regulatory compliance,

Contribute to a decline in staff morale,

Increase staff turnover,

Weaken staff confidence in management/leadership, or

Create legal issues (e.g., patient negligence, physical or verbal abuse).
While there are common steps taken in response to any disruptive employee, different types of disruptive employees require different approaches.
Long-Term Well-Performing Employee Who Suddenly Becomes Disruptive
Good employees are hard to find. Well-performing, experienced employees are difficult to replace. But even the best employees can become disruptive. An employee may act out due to an internal conflict or an external issue that carries into the workplace.
Make time to have a one-on-one discussion with this employee. Be honest and direct about why you are engaging in the conversation. Provide the employee with a description of the disruptive behavior and share personal observations. Straightforwardly pose the question, "What's going on?" That may be all it takes to obtain an explanation. Provide assistance, when it's appropriate to do so.
If this conversation fails to bring about a resolution, turn to your human resources policies. If you are dealing with a safety and/or behavior issue, and a policy speaks to these matters, review the applicable language with the disruptive employee. Share a copy of the policy with the employee. Then provide a performance improvement plan outlining expected behavioral changes. Identify a specific timeframe to demonstrate improved performance. Clearly explain the consequences of failure to comply with the plan.
New Hire
You've put in the time to find, interview, hire, and orient a new employee. When you learn this individual is disruptive, take a deep breath. Before you stress about having to go through the hiring process all over again, understand that new hires often struggle during their initial employment period.
But don't stop there! Immediately sit down with the employee and discuss the disruptive behavior. Share your observations. Explain why the employee's actions are not acceptable. Review your employee handbook with the employee, specifically focusing on pertinent areas – your code of professional conduct and disciplinary procedures, for example. Outline what the employee needs to do to avoid discipline and possible loss of position.
Note: The hiring and training process is time-consuming. Losing a new employee, while easier to handle than losing a senior employee, is not optimal. Ensure you employ a sound interview process that affords you the best chance of hiring the right people the first time around. Ask appropriate questions and dig below the surface to gain insight into your candidates' answers. Develop a comprehensive onboarding process and sound competency training program. Hiring smart and clearly establishing expectations at the outset positions new employees for success.
Well-Performing Employee in Their Department, Disruptive Employee Elsewhere
You have an employee who is great at their job. They fulfill their responsibilities and receive high marks from managers and co-workers within their department. But when they step outside of their work area, they become disruptive. It's an unfortunate development that requires action.
Investigate the situation. Speak with the individuals affected by the employee's disruptive behavior to learn as much as you can about the employee's actions. Sit down with the employee and explain how his or her actions may be indirectly affecting the performance of their own department and the ASC's ability to deliver the best possible patient experience. Sometimes, these employees need to be reminded they are expected to maintain the high level of professionalism and excellence they demonstrate in their department throughout the entire facility.
Long-Term Disruptive Employee Who Was Never Disciplined
A new ASC manager learns of an employee whose disruptive actions and/or behavior were ignored by previous leadership. Unfortunately, this is not an ideal start to a new position. If the new leader wants to earn the respect of all ASC staff, action is imperative.
Review the employee's personnel file to find out if previous managers spoke to the individual or took any action. Speak with affected staff members to learn all you can, documenting any information not included in the file.
Again, sitting down with the employee is necessary. Make it clear the disruptive actions were never acceptable and must now stop. Establish clear expectations regarding future behavior. Provide the employee an opportunity to share their perspective and address whether they believe they can meet your expectations.
While a new manager will not know this employee well, a respectful discussion is vital. Avoid a confrontational tone and negative expressions. The employee may not have realized their behavior was disruptive or understood the harm caused by their actions. A supportive manager who provides positive guidance may be all that is necessary to resolve even a long-term problem.
Rely on Your Policies
Managers faced with any type of disruptive employee behaviors are well-served when they follow their ASC's policies and procedures. Doing so helps ensure consistency in addressing behavioral incidents and maintaining regulatory compliance.
Managers should prepare to follow through on outlined consequences even if it means firing a valued employees. A disruptive employee can place significant strain on your well-oiled ASC; but a manager who does not respond appropriately may cause irreparable damage.
---
Jennifer Arellano, Director of Operations