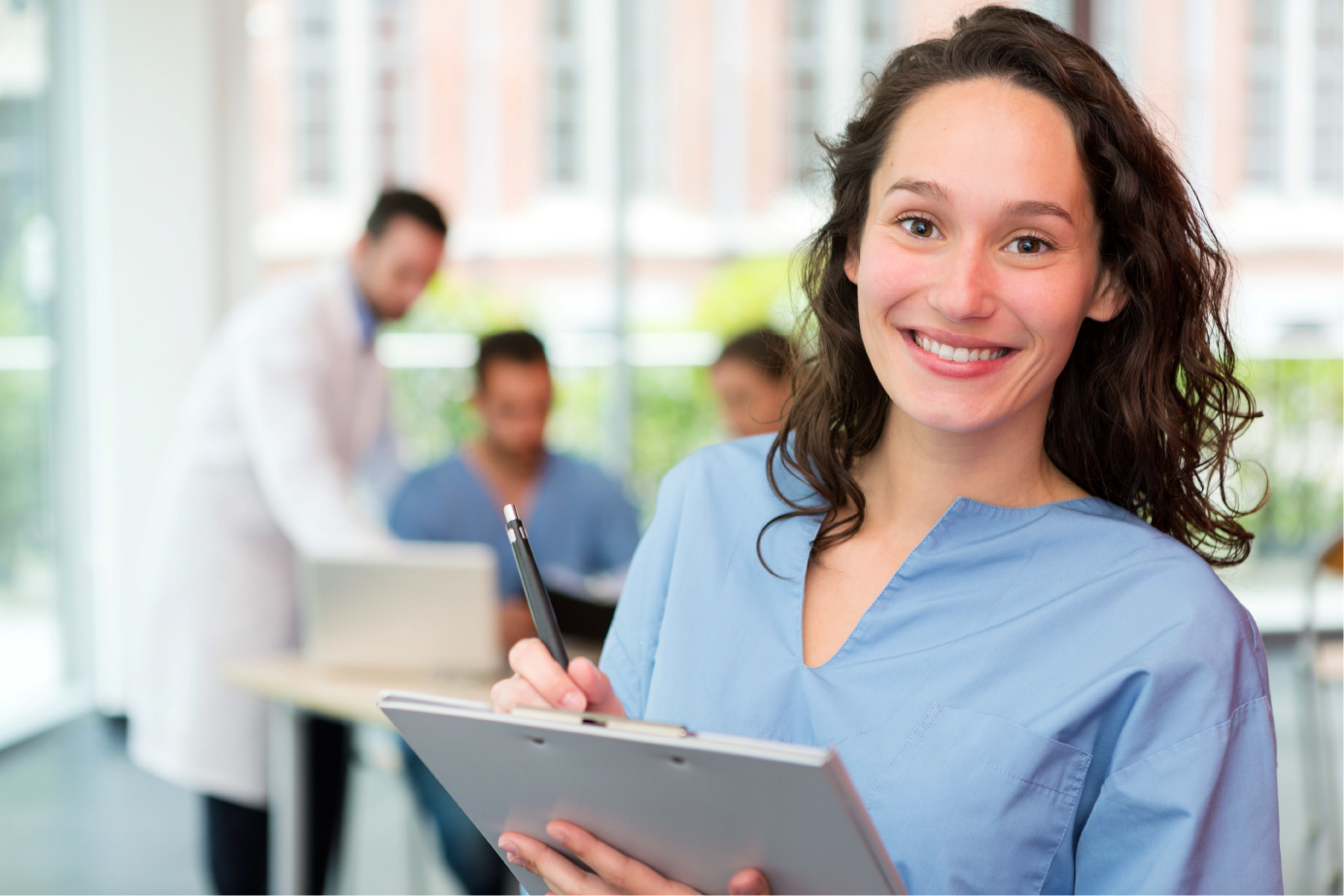 Nursing jobs are aplenty and there are no signs of this changing any time soon. According to data from the U.S. Bureau of Labor Statistics, employment of registered nurses is projected to grow 15% from 2016 to 2026 – much faster than the average for all occupations.[1] Factors contributing to this rosy job outlook include employment growth in the health care sector and the need to replace retiring nurses.
With ample nursing job openings, qualified nurses can be selective about their work environment. A question nurses must answer is: "In what type of care environment do I want to work?" One of the more rewarding and enjoyable opportunities is serving as an ASC nurse.
Advantages of Working as an ASC Nurse
Here are some of the most compelling arguments for why nurses may want to set their sights on landing a position in an ASC.
Better work-life balance. ASC staff do not typically work weekends or holiday hours. Weekday shifts tend to end at a reasonable time – usually, there's no burning the midnight oil. If you want evenings, weekends, and holidays free, these are typical perks of being an ASC nurse.
There is a trend of ASCs opening on an occasional Saturday to help meet patient scheduling needs. Some ASC nurses jump at the opportunity to work this shift as it often frees up a weekday. An open weekday is a great time to take care of appointments and errands while most people are working. Depending upon your interests, that weekday may be the prime time to pursue recreational activities.
Opportunity for cross-training. Are you interested in expanding your skill set while on the job? The ASC setting is the place for you. ASCs run a lean staff, with team members expected to wear many hats. For an ASC nurse, this may entail assuming roles such as risk manager, quality improvement director, or infection control specialist. Some ASCs ask clinical staff if they are interested in cross-training in what may seem like unusual areas. These can include patient registration, sterile processing, and materials management.
Cross-training affords nurses opportunities to expand their education and skills while still focusing on patient care. Cross-training may also provide an opportunity for nurses to work more hours, if the need arises.
Strong team cohesion. Hospitals, due to their physical and staff sizes, tend to be departmentalized, experience greater staff turnover, and rely upon more temporary staff. ASCs, with their small, cross-trained staff, naturally lend themselves to stronger team cohesiveness and efficiency. It doesn't take long for a new ASC nurse to meet all coworkers and understand their job roles. By working with the same people day in and out, ASC staff develop powerful, often family-like bonds.
This familiarity helps develop comfort with and confidence in one another. It also improves communication and interaction between team members. The results: greater staff, patient and physician satisfaction; stronger workflow; reduced risks and, typically, better outcomes.
Closer relationships with patients. Patients who seek treatment at an ASC are in generally good health. They lack severe comorbidities. Undergoing surgery in an ASC tends to be less stressful compared to requiring emergent hospital care.
These factors allow ASC nurses to get to know their patients on a more personal level. There's time for conversations with patients and family members. It's not unusual for one or more staff members to discover a social connection with patients. As these bonds develop, patients move beyond being a medical record number and diagnosis. It is a rewarding experience to deliver care to someone you know on a more personal level.
Bonus program. In many ASCs, once the facility achieves profitability, leadership will implement a bonus program. This allows staff to take greater ownership of how well the entire business performs. For an ASC nurse, this may include influencing patient satisfaction, room turnover rate, survey performance, and cost containment.
Faster decision-making. In a hospital, change tends to be slow. For example, if clinical staff are unhappy with a type of surgical glove, changing brands usually requires a lengthy approval process. This can include multiple trials and levels of leadership approval, potentially taking many weeks.
In the ASC, the decision-making process is usually linear and quick. Unhappy with a product? It may only take a day or two to switch.
Answer These Questions Before Pursuing an ASC Nurse Job
The pros listed above represent just a portion of the many reasons why serving as an ASC nurse is rewarding. However, working in the ASC environment may not be for everyone. Before you begin applying to ASC job openings, consider these questions:
Do you need a guaranteed shift? ASCs tend to staff for the cases on their schedule. When there is not a full schedule, staff are often sent home. At times, there may be opportunities to fill some open schedule time with special projects. Even then, flexible scheduling tends to be a fact of life for an ASC nurse.
Are you looking for a rush? ASCs perform scheduled, elective procedures. Surprises are unwanted. If they happen, it usually indicates something has gone wrong, potentially jeopardizing safety. Want the adrenaline surge of coming into work not knowing what will happen or what you will need to do? You won't find that in a well-run ASC.
Do you want to move up the leadership ladder quickly? There are few management roles within an ASC. If your desire is to rapidly advance into a management role, the ASC setting likely won't lend itself to quick upward mobility. It is important to note, however, if you work in an ASC managed by a larger company, there may be more opportunities for advancement – assuming you're willing to relocate.
Do you work best independently? ASCs thrive on teamwork. Most projects require it. If you tend to work most effectively on your own, an ASC probably isn't a good fit.
Still unsure about whether you want to work as an ASC nurse? Consider reaching out to a local ASC and speak with its clinical director or director of nursing. Ask this person to tell you what they love about working in a surgery center. Find out if you can visit, tour the facility, and speak with other members of the nursing staff. There's a good chance that working as an ASC nurse will check many of the boxes on your desired job qualities list.
---
Lisa Austin, VP of Facility Development
---
[1] https://www.bls.gov/ooh/healthcare/registered-nurses.htm