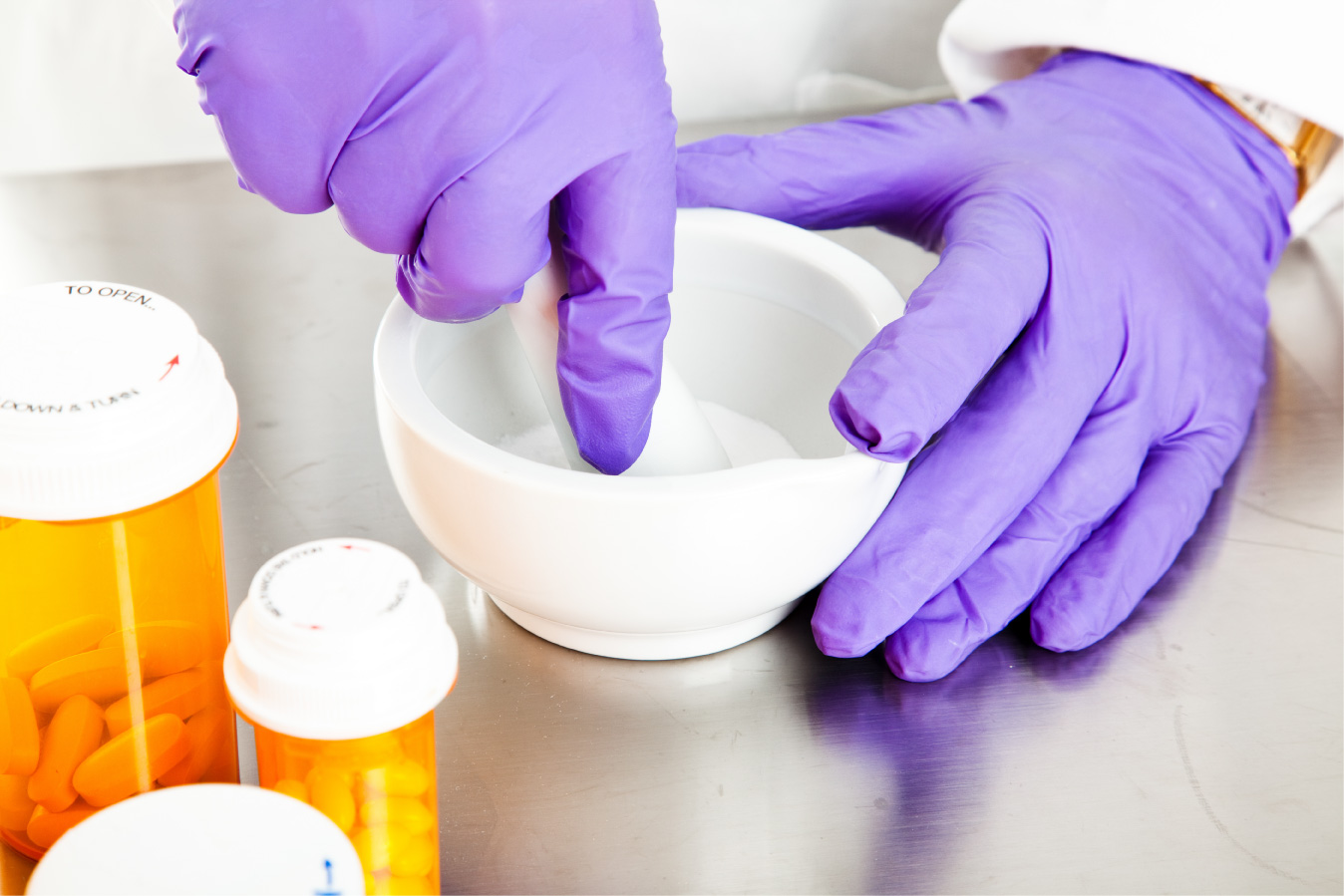 In 2011, a compounding pharmacy repackaged an anti-cancer drug off label into plastic syringes for the treatment of macular degeneration. The pharmacy had no container closure or compatibility studies. Fifteen plus patients sustained injuries, including blindness, due to contamination of the medication during the repackaging process.[1]
In 2012, more than 60 patients died from fungal meningitis when they were given a steroid that was compounded by New England Compounding Center. This medication was prepared and packaged in an environment in which proper sterile techniques were not used.[2]
From 2016 to 2017, Guardian Pharmacy Services compounded an ABO steroid to replace a FDA approved drug that had gone on back order. The medication was compounded with an improperly treated binding agent, causing loss of visual acuity in more than 30 patients.[3]
Unfortunately, surgery centers purchased and administered these preparations to patients under their care. Understanding how these adverse events happened will help you prevent them from occurring at your center. Knowing what regulations were put in place as a result and the best ways to research the compounding pharmacies you order from will aid your center in mitigating risk.
How did these issues happen?
Historically, compounding pharmacies were created for physicians to have specialized preparations made for specific patients. Perhaps they had a patient with an allergy to a binding agent or dye in a medication and needed the medication to be made without those ingredients. Over time, these pharmacies began to batch produce sterile preparations. Unfortunately, this occurred in pharmacies that did not have the proper sterile processes and equipment in place to ensure safety of the medications being compounded. In addition, the FDA had no statutory authority over these facilities. The facilities were not even required to be registered with the FDA. While some of these pharmacies may have been visited by their state board of pharmacy, most of them flew under the radar.
After the New England Compounding Center debacle, Congress acted, creating the Drug Quality and Security Act (DQSA). The act delineated two classes of compounding pharmacies and granted the FDA the authority to regulate these facilities.
503A & 503B Key Differences
Under DQSA, there are two classes of compounding pharmacies – 503A and 503B. A traditional compounding pharmacy (one script for one patient) is a 503A. The 503B, however, is an outsourcing facility intended for batch production.[4]Â The table below outlines the new regulations under DQSA for both types of pharmacies.
503A Compounding Pharmacy
503B Outsourcing Facility

Regulatory Authority

State Boards of Pharmacy

FDA registration & inspection

FDA registration & inspection

Additional State requirements

Applicable Standards

USP <797>

FDA 503A Policy Guide

FDA cGMP (21CFR 210 & 211)

Additional State requirements

FDA Inspection

Under authority to enforce 503A

FDA authority to enforce cGMP regulations

Licensing

State Boards of Pharmacy

FDA Registration

Inspection

FDA

State Boards of Pharmacy

FDA & States if additional State requirements

Limitation on Services

Individual prescription only

Limited anticipatory compounding

Batch processing

May maintain inventory

Must sell direct to prescriber
Additional Differentiators
503A:
Laminar flow hood

Lack of aseptic technique

No qualification of:

Active pharmaceutical ingredients (API) & excipient* vendors

Container closure

Aseptic operators

Environmental controls
503B
Full current good manufacturing processes (cGMP) qualified[5]

API & excipient* vendors

Validated sterile procedures

Aseptic technique

Aseptic operators

Environmental controls

Environmental monitoring

Release assays

Stability testing
Best Practices for ASCs
If you need a product and there is no FDA-approved commercial option, it is best to use a cGMP 503B registered outsourcing pharmacy. If a 503B is not available, you can use a 503A facility, but ensure you perform due diligence on both types of facilities first.
There are several ways to obtain information on compounding facilities:
Regulatory status / licensure. Know the regulatory status of the pharmacy you are ordering from by checking the FDA website. All registered compounding pharmacies are listed here with their status and survey history. Ensure you verify licensure in the state where the compounding takes place.[6]
Query results of your (receiving state) State Board of Pharmacy for any regulatory infractions.
Qualify your provider.

Use the questionnaire from the International Academy of Compounding Pharmacists (IACP). This document guides you through a series of questions that provide you with a good picture of the facility and their record of regulatory compliance.

Obtain and review an information release. Most pharmacies will give this to you if you ask. The information release will summarize regulatory status, licensure type, survey history, etc.

Obtain and review the pharmacy's quality manual. If you really want to dive in, you can review their QA plans.

Obtain the cGMP certification of Product-503B outsourcing pharmacies. Often, they will provide a copy of the current good manufacturing processes that were used in production. This verifies the medication was made using the appropriate processes and verification methods.

Ask for proof of the facility's Pharmacy Compounding Accreditation Board (PCAB) certificate.
Armed with this information, your ASC should be able to secure products from a reputable compounding pharmacy who is diligent about preparing medications in a safe environment. You can rest easier knowing you've performed the due diligence necessary to mitigate risk to your patients and maintain your ASC's reputation of high quality care.
---
Jovanna Grissom, VP of Operations
---
[1]Avastin injections are reported to cause blindness.
[2] Killer pharmacy: inside a medical mass murder case.
http://www.newsweek.com/2015/04/24/inside-one-most-murderous-corporate-crimes-us-history-322665.html
[3] Patients lose vision after routine cataract surgeries at Dallas Key-Whitman center
https://www.dallasnews.com/business/health-care/2017/04/27/patients-lose-vision-routine-cataract-surgeries-dallas-key-whitman-center
[4] https://www.fda.gov/Drugs/GuidanceComplianceRegulatoryInformation/PharmacyCompounding/ucm339764.htm
[5] https://www.accessdata.fda.gov/scripts/cdrh/cfdocs/cfcfr/CFRSearch.cfm?CFRPart=211
[6] https://www.fda.gov/drugs/guidancecomplianceregulatoryinformation/pharmacycompounding/ucm378645.htm