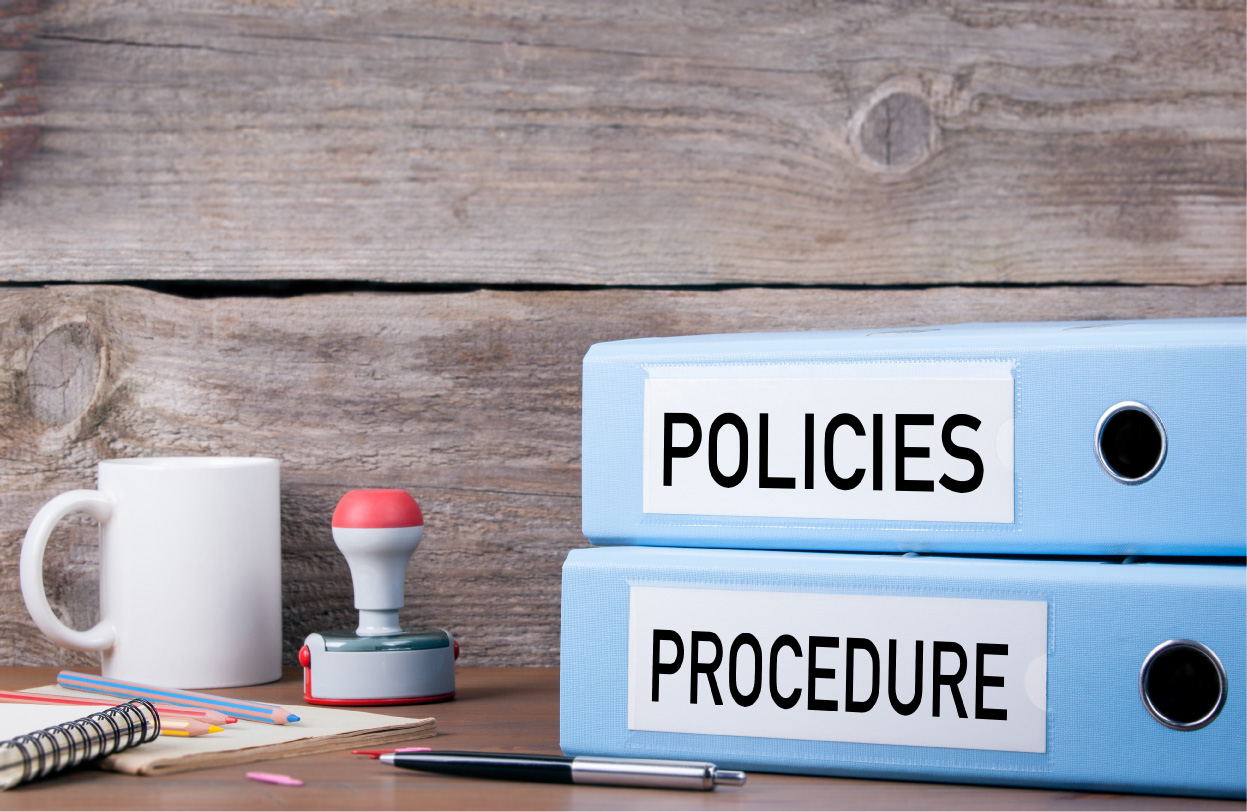 Policies, procedures, and protocols are the lifeblood of an ASC's operations. These critical guidelines should be clear, concise, and readily accessible to members of the workforce. Sometimes, despite the importance of these standards, locating a comprehensive listing of policies, procedures, and protocols is not easy. When staff members are unable to easily locate a policy for the guidance they need to complete their job duties, they are hampered in their mission to provide efficient and effective service to patients. Frustration arises when time is wasted working through inefficient processes. And, in a surgery center's fast-paced environment, timeliness is critical to efficiency.
Policies and procedures are written to provide clear and concise context, which in turn promotes consistent performance across teams. Written policies are the guideposts which represent evidence-based practices to be applied in daily functions. When team members cannot locate a policy, mistakes can happen, and clinical care can falter.
The best policies and procedures are well-researched, carefully crafted documents that contain pertinent references. They should also be stripped of bulky words, keeping content current, consistent, and concise. No matter how well written the policy, it is meaningless if it is never read and applied to practice.
How do you know if your staff is knowledgeable of your surgery center's policies and procedures?
If your staff asks questions which are addressed in the policies and procedures manual, that can be an indicator that they are unfamiliar with your ASC policies and procedures. For example, do they ask, "What policy addresses cleaning point of care devices between patient use?" or "How often must relative humidity be monitored?" These questions indicate your staff either do not know best practices, or your ASC process, or they are unsure where to locate the information.
To address a lack of awareness of policies and procedures, begin by creating open dialogue with your staff. During this process, you may uncover a need for retraining or identify areas in your onboarding process that are insufficient. On the other hand, if your staff reveals competency in the areas where there were questions and they are solely looking for your center's specific policy, take a step back to review the accessibility of your policies and procedures and determine if they are user friendly. There may be many reasons why staff members do not establish and maintain policy knowledge with ease; communicate with them to find out why.
Are Policies, Procedures, and Protocols Accessible?
Let's explore the accessibility factor by looking at the history of policies and procedures. In the past, policies and procedures were paper based – typically housed in several large three ring binders. Often, these policy notebooks were strategically placed in the confines of a manager's office – the person most often responsible for upkeep of written policies. In this model, the binders are not immediately available to the bedside nurse who may benefit greatly if they were in a more convenient, accessible location.
The communication breakdown here can be explained by competing priorities. A manager of a busy ASC is often overwhelmed by the demands of the day. The ongoing task of refreshing policies quickly can easily slip to a lower priority.
A practicing nurse knows to wipe down the gurney and put clean sheets on the bed before the next patient uses it. He or she did not need to read a policy to know this. However, does this same nurse know why only FDA approved disinfectant is used? How much dwell time is needed to kill microorganisms? Which point of care devices need to be cleaned? The answers to these infection prevention practices are critical to current infection control standards and are addressed in written policy. When the policy is read and executed, best practice is displayed by the entire team.
Poor practice, ineffective communication, and inadequate onboarding occur when the cleaning process is vocalized but not provided in written form during the orientation of a new hire. The orientee does their best to repeat what is heard and observed – but a breakdown in the consistency of the function can easily occur. If the employee does not receive enough guidance or resources, he or she may resort to performing the task in the way he or she knows how, relying on previous experience or observations of others. That performance might not adhere to the latest best practices. Alternatively, proper infection control processes are easily achieved as a repeatable task with initial and continuous education resources available.
Sustainable solutions to sharing protocols, policies, and procedures
As ASC leaders, our responsibilities include consistent, reliable management of information. Effective policies contain information that can be easily shared with members of the workforce. Leaders need sustainable solutions that improve how we share policies with staff members.
Here are four goals to consider:
Policies are readily available to end users.

Policies are accurate and current.

Policies are protected from erroneous editing.

Policy updates are communicated clearly and in a timely manner to appropriate personnel.
To select a communication platform designed to achieve these goals and secure utilization among all team members, consider the following questions:
Does the platform address your identified goals?

Can the facility afford the platform?

What training is required to launch and implement the platform?

What will be gained from using this platform?

How will leadership appropriately administer change management?
Not every ASC will be able to adopt the same method, hence the importance of identifying your own goals. Once goals are established, develop leading questions to identify the best tool or process for your surgery center presently and in the foreseeable future.
Is there a better way?
Pinnacle III's managed facilities recently adopted a technology-based policy management system. This strategic move allows our ASCs to immediately gain access to our surgery center policy library. Placing a clickable icon on every workstation provides employees immediate access to policies. System administration ensures accurate and current content material, maintaining intellectual ownership. To protect policies from incidental tampering, all editing occurs via permissions and a prescribed work flow process.
To facilitate the change management process, staff training was provided upon implementation. Periodic in-services were scheduled following initial implementation. To progress staff adoption, a series of quizzes were prepared for personnel affording them opportunities to practice locating and reading various policies on the platform.
Implementation of this software has decreased employee frustration with inability to locate policies. The software provides a more efficient way to maintain and update policies. Our leadership team is more confident members of the workforce are following policies. This has enhanced the workforce's ability to achieve compliance to practice standards and defined business operations. The leadership team's repetitive message, "Let's view the policy!" and "Did you read the policy?" makes consistency probable.
A technology-based platform may not be the answer for your ASC. However, it is important to understand the pain points and efficiency issues that occur in your center. These critical components are directly tied to patient care. No matter what your solution, make sure you are addressing your policy, procedure, and protocol goals. After all, the best policy ever written is the policy which is accessed, read, and applied to daily practice!
---
Jean Day, Director, Clinical Education