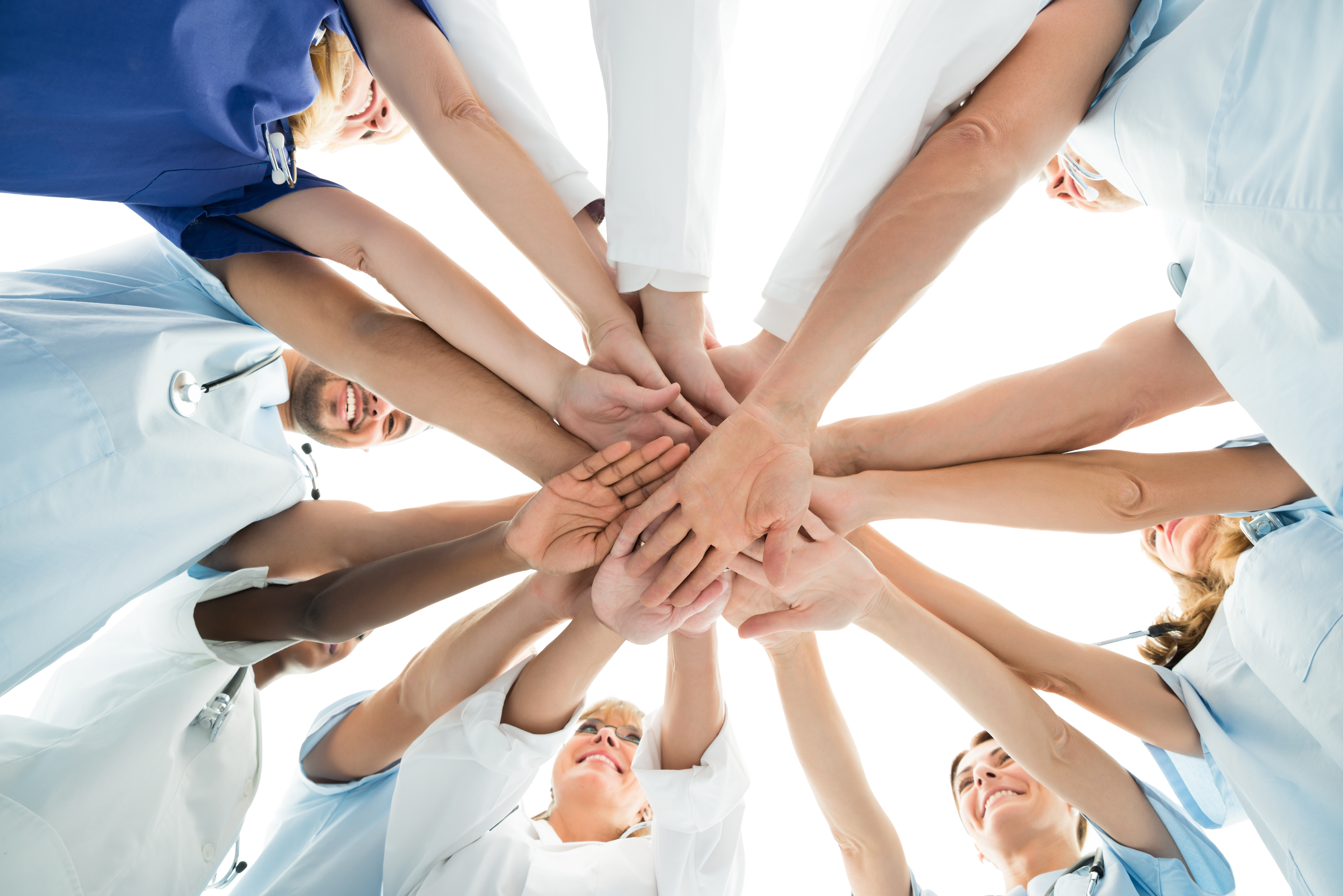 Organizations who harness the power of teamwork thrive.  You can sense their vibrant energy the minute you step through their front door.  Positive momentum permeates every aspect of their business.  Their collaborative spirit is infectious.        
Teamwork in your ASC can easily make the difference between your place of business being merely another place to work or a workplace of choice.  It can also make the difference between your ASC being yet another place to receive care or the preferred patient option for ambulatory surgical services. 
ASC leaders who understand who makes up their team and what allows for a dynamic work environment are better equipped to harness the power of their team.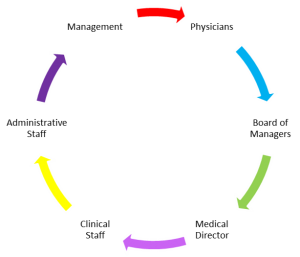 The diagram above is a visual representation of an ASC's stakeholders.  Let's explore how to engage individual team members to create a vibrant team.
What is Important to the team?
Whether an ASC is in the planning stages, has recently opened, or is in its tenth year of operation, the organization's mission statement is critical to developing and maintaining its goals.   It serves as the cornerstone of the ASC's culture. 
A properly crafted mission statement –
Communicates the purpose of the organization

Serves as a filter to separate what is, and is not, important to the organization

Clearly states which markets the organization will serve and how

Communicates a sense of intended direction to the entire organization
The mission statement guides the actions of the ASC, articulates its overall goals, provides a path to achieve those goals, and ensures decision-making is in keeping with those goals.  It provides the framework to develop the company's strategies.
When crafting a mission statement, consider –
Quality and consistency

Customer service

Diversity and individuality

Professionalism

Specific ideals of a sponsoring or partnering health system or organization
Although it is not uncommon for a mission statement to remain the same over time, it should not remain static due to inattention or apathy.  Markets, goals, leadership, and organizations change and evolve.  Review your mission statement on a regular basis to ensure it reflects any substantial changes.
The Team
Physicians
As I have discussed in other posts, physicians become members of ASCs for a variety of reasons. Ensure you recruit physicians based on how they will function as part of your team. Careful selection is the key to success. If physicians participate for the right reasons and their previous track record demonstrates they are "team players," integrating them into your team should not be difficult.
Because physicians interact daily with your patients and staff, it is critical for them to buy into, and actively support, the ASC's mission and culture.  There is no quicker way to undermine the effectiveness of your workplace than to work with physicians who do not respect your organization's purpose.
Board of Managers
Ideally, the ASC's Board of Managers (BOM) should create the facility's mission statement, be involved in its regular review, and develop any revisions.  By setting the facility's policies and procedures, hiring its medical director and management team, and crafting the mission statement, the BOM is the de facto owner of the ASC's culture.
BOMs facilitate team dynamics when they are comprised of a diverse group of investors, representing different physician groups and specialties.  When the facility is joint ventured, it is important to include hospital executive representation on the BOM.
Ultimately, the most important characteristic for board members to possess is a willingness to participate and devote the time necessary to enthusiastically engage in facility-related discussions. Board members who stay informed about facility performance and operations and consider the perspectives of all stakeholders regarding ASC topics make sound business decisions.
Medical Director
The medical director is selected by the BOM.  As with physicians, this selection needs to be based on the individual's track record of being a "team player." Initially, the medical director will be involved in developing the ASC's policies and procedures.
Most importantly, the medical director is charged with supporting clinical and administrative staff, enforcing policies and procedures (along with the BOM), and effectively maintaining the facility's culture.  This will include addressing professional issues related to physicians and staff that are averse to the desired team environment.  The medical director will also function as a team member in multiple operational areas including scheduling, staffing, inventory, operating room utilization, etc.
Clinical and Administrative Staff
A popular saying is, "Hire the right people and get out of their way."  This holds true not only for employee skill sets and work ethic, but also for their ability to effectively function as members of a team.  Educating staff about the ASC's mission and the BOM's commitment to that mission sets the stage for a well-informed team ready to fulfill the desired expectations.
It is critical to support and empower clinical and administrative staff to take action and make the decisions necessary to fulfill the ASC's mission.  For example, they must feel comfortable reaching out to ASC leadership when quality of care or customer service issues are being compromised.
As new team members are added through growth or attrition, ensure a consistent message is relayed by the physician owners, BOM, medical director, and the facility's management team. This will ensure the desired team dynamic is preserved.
Management
Management is comprised of the ASC's administrator and their team of program leaders.  The role of management is to own the ASC's mission and consistently promote that message to all team members in the facility.  This is the responsibility the BOM entrusts to the center's management. Management accomplishes this by expecting, promoting, and modeling excellent working interactions among all stakeholders.  Recognizing the contributions of all team members in pursuit of the ASC's goals and carrying out its mission allows a team atmosphere to flourish.  
Finally, management is responsible for ensuring team members who are not bought into the organization's mission, or do not have the skill set to contribute to that mission, are appropriately removed from the mix.  Jim Collins, renowned management consultant and author, said, "The only way to deliver to the people who are achieving is to not burden them with the people who are not achieving." [1]
Conclusion
In conclusion, I am reminded of a speech given by legendary University of Michigan football coach Bo Schembechler.  It is simply referred to as "The Team! The Team! The Team!"  There are numerous YouTube versions of the speech.  My personal favorite is one pulled from a news clip (approximately 2 minutes long).  In his speech, Bo reminds us there is nothing in life we will achieve as an individual that will provide us more personal satisfaction than what we will achieve as a member of a team.  The team can be defined in many ways – your family, your place of worship, your work place – the list goes on.  The underlying message is this:  leaders need to provide the unwavering vision, mission, and culture necessary to make sure all stakeholders have a chance to experience the sense of team accomplishment described so powerfully in Bo's speech.
---
Robert Carrera – President/CEO
[1] Good to Great:  Why Some Companies Make the Leap & Others Don't, James C. Collins, 2001