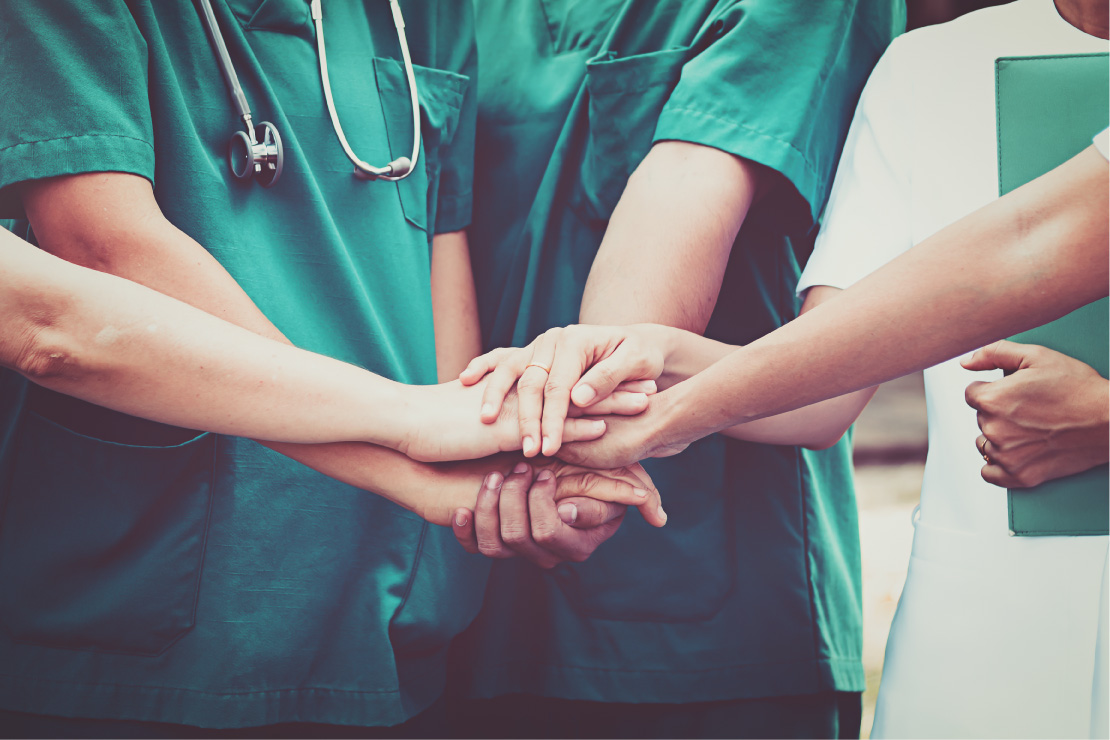 Is teamwork the norm in your ambulatory surgery center? If the answer is yes, you are ahead of the curve.
Most organizations struggle to develop and foster an environment in which true teamwork can flourish. However, organizations successful in fostering a team-oriented environment see many benefits in the lives, and output, of their workforce. An organizational norm of teamwork fosters creativity & learning, builds trust, develops conflict resolution skills, blends complementary strengths, promotes a wider sense of ownership, and encourages healthy risk-taking.[1]
In the book, High Five! The Magic of Working Together, the authors assert, "Fostering teamwork is creating a work culture that values collaboration. In a teamwork environment, people understand and believe that thinking, planning, decisions, and actions are better when done cooperatively. People recognize, and even assimilate, the belief that 'none of us is as good as all of us.'"[2]
Why is developing a culture of teamwork such a struggle?
Our schools, family structures, and many of our pastimes emphasize winning and individual achievement over collaborative accomplishments. Some of us are raised in environments that do not teach or value collaboration. Instead, we learn early to be the first and the best.
As we mature and begin our careers, this pattern continues. It is not uncommon for workplace rewards and promotions to be directly tied to individual performance. The system of rewards at work often reinforces self-reliance. Instead of working collaboratively with colleagues who are specialists in their respective fields, we strive to grow our own breadth of knowledge to increase our ability to do all things by ourselves.
How can you create an environment in which teamwork and collaboration are your norm?
Clearly communicate teamwork and collaboration are expected. Model teamwork in your interactions with each member of your ASC. Talk about and identify the value of a teamwork culture in meetings. Make teamwork a core value of your surgery center. Advertise it in places easily seen and identifiable by all. Emphasize that being a team player is a strength. Hire individuals who are team-oriented.
Maintain a culture of teamwork even when things are going wrong. Resist the temptation to blame individuals. Instead, focus on how the team can resolve issues that arise. This allows your team the freedom to make decisions without fear of making a mistake and being reprimanded.
As you transform your staff into a collaborative team, recognize and reward teamwork actions along the way. Consider how to focus compensation, bonuses, and recognition on collaborative practices as well as individual contribution and achievements. One avenue for teamwork recognition is sharing important stories that emphasize teamwork during regular team meetings. For example, "Remember when our Pre-Op/PACU nursing staff worked together to conduct a pre-survey prior to our most recent state accreditation survey? They found 5 areas where we needed to improve processes to maintain compliance with regulations. But they didn't stop there. They executed the necessary process improvements. Let's all applaud our Pre-Op/PACU nursing staff members. They diligently worked together to get ready for that survey and contributed favorably to our success."
How do you maintain teamwork and collaboration?
As you focus on and implement teamwork, you will recognize the need for team building activities. Traditionally, organizations approached team building as a trip to a resort, playing games, or some other type of break from the workplace. Then they wondered why the sense of teamwork at their one-day outing failed to make its way back to the workplace. To gain the most from your efforts to build teamwork, consider more regular, fun, shared occasions for team building. Potlucks, local sporting events, or even local dinners are all good options.
Consider challenging your staff with a project that requires working together collaboratively to achieve a desired objective. Before doing so, however, provide training and tools to team members on communication and setting team standards. This will allow them to focus most of their energy on the assigned project and less effort on figuring out how to work together as a team.
Use ice breakers and teamwork exercises at meetings. While these activities are short in duration and cost little to implement, they help teams get to know one another and often result in a healthy dose of laughter.
Celebrating Team Culture
Ask ASC leaders to publicly recognize teams for their successes and offer team members opportunities to recognize their peers for major contributions to the team. Receiving recognition makes the feeling of team success even sweeter, and worth repeating.
Effective teamwork not only promotes creativity, learning, and innovation, but also encourages team members to perform at their highest potential. When team members are working together at their highest potential, their efforts are multiplied. Your organization benefits exponentially. Once teamwork is established as an organizational norm, trust amongst colleagues and workplace satisfaction are fostered, contributing to a general sense of good will in your ASC.
---
Jovanna Grissom, VP of Operations
---
[1] https://www.sandler.com/blog/6-benefits-of-teamwork-in-the-workplace
[2] High Five! The Magic of Working Together, by Kenneth V. Blanchard, Sheldon Bowles, Others, 2000, New York: HarperCollins Publishers Inc. Copyright (2001) by Blanchard Family Partnership and Ode to Joy limited.